OUR COMMITMENT
3645 James Rd, Acworth, GA. 30102 (770) 966-7414
FREE ESTIMATES
VISA/MasterCard/Discover/ American Express Accepted


COMMITMENT YOU CAN TRUST

We have 36+ years experience, I-Car Gold Certified technicians and the latest tech equipment such as Devilbiss Spray Booth, rotary lift, Star Rack 360 Frame Machine, Miller SideKick Mig-Welder, and CCC Pathways computerized estimating software with monthly estimating updates including a computerized color matching system.

Autowise Collision provides Certified Technicians. Additionally, all staff are trained on the State of the Art Advanced Technology.
This assures our customers and clients the best possible offer in consistent and accurate estimates on all quality & guaranteed work. The Lowest Possible Prices are Guaranteed!
There is no need to worry about uality body work or "price gouging" at Autowise Collision.

You can depend on us for quality work at reasonable prices. Our specialists know the process and components to complete a job on the higher level that today's car market demands for constant uniform paint thickness on the auto bodies.
AutoWise Collision continues to research, educate and train it's staff and use all the latest technological equipment and tools of the automotive painting industry ensuring "uniform" paint coverage that produces superior quality and durability finishes in automotive surfaces.
At AutoWise, we get the foundation right first.

Each car, truck or van is carefully prepared before painting begins. Our auto body prepping leaves no detail overlooked. We know one of the most important steps to a perfect paint job is in the prepping phase. A car that is prepped right is easier to paint right.

You Get Only Premium Components and Auto Body Parts.

At AutoWise Collision Inc, we use only the highest quality materials and equipment, ensuring that your vehicle is repaired and or restored to its exact specifications that will protect the safety of you and your family including its property value.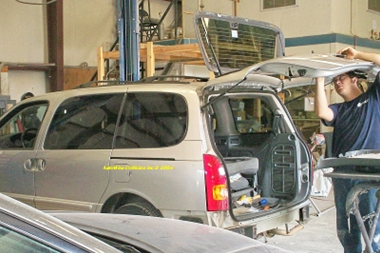 ALL WORK DONE AT AUTOWISE COLLISION IS BACKED BY OUR GUARANTEED reliable, high-quality services INCLUDING I-CAR and ASE-certified technicians.

"We always treat your car like it is our very own"

We care about our responsibility to our customers to provide expertise knowledge with quality client services. Everyone is important to us. At Autowise Collision we commit to providie our customer with the attention they deserve. We value the opportunity to Serve you. We are available to our customers either by appointments or just calling and coming in to the facility. We also can set up after-hours appointments...if required!


PRECISION COLOR MATCHING

We at Autowise Collision specialize in flawlessly reproducing your car's original color with the use of current technology in color matching.
The use of computers enables precision matching of car paint. Our trained technicians formulate the exact and precise mixture that will match the original manufacturers paint .
After successfully matching the color mixture, the next important and skillful process is applied in a controlled spray booth environment.
We use one of the most sophisticated and of superlative quality painting systems available in the Auto Body Industry that is on the Market today.
Our Certified and trained staff take pride in our ability and special techniques to match the modern factory finishes that incorporate multiple layers of highly specialized paints.


WHAT SETS US APART FROM THE REST?
Our long time experience, hi-tech trained staff, I-Car Certified technicians in all areas of Auto Body Repair COMBINED with the use of an absolute & supreme computerized paint system allow PRECISION COLOR MATCHING factory finishes duplication.
We are your Specialists in Quality Paint and Collision for Fleet and Truck Centers. You will find only quality and professional services for your commercial vehicles requirin body and fiber glass repair and collision repair painting body modifications.
Our State-Of-The-Art High Quality Equipment, Lifts, Paint Booths and Certified Staffed Technicians including Administration Are Expertise On All Advanced Tools and Computer Technology.

Superior Quality Craftsmanship with OEM Factory Specifications Maintained!
With more than 36 years of experience we have the 'know-how' and expertise of certified technicians using all new equipment and top-of-the-line technology to ensure our customers get the quality and one-on-one personalized service they deserve.

We are proficiently skilled in a variety of auto body repair services. In addition to collision repair, we are expertise in the restoration of classic automobiles, custom and decorative painting services.

COMPUTERIZED COLOR MATCHING

We Use Computer Controlled Color and Paint Mixing Process in our Auto Body Service for exact Automobile Color Matching ...

Commitments and Assurances to our Customers and Clients ... We ensure that your paint finish is of the highest quality.
Autowise Collision is a well-organized and state-of-the-art equipped family owned auto body shop that can easily accommodate a variety of vehicles for collision repair, customizing, complete restoration, painting and just about any body modifications required.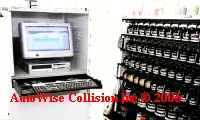 Our employees are experienced collision, paint and repair and administration trained. All customers and clients receive one-on-one special and first quality attention. Autowise will fully guarantee customer satisfaction for expert, reliable and timely quality body work and painting.
We Are a Full Service, Friendly and Professional Paint and Collision Repair Shop .... We offer complete foreign and domestic paint and collision repair including professional frame work.